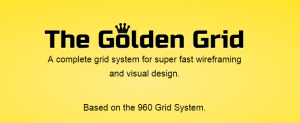 The golden grid is a system based on the famous 960 grid system. The golden grid adds horizontal guides to the 960 grid system that makes it easier and quicker to place the elements and to build a page.
** This isn't a responsive grid, so it's only useful for a fixed layout.
This download includes templates for Photoshop, Fireworks, OmniGraffle, Illustrator, InDesign, Pixelmator and Flash plus Photoshop actions.
Download
17